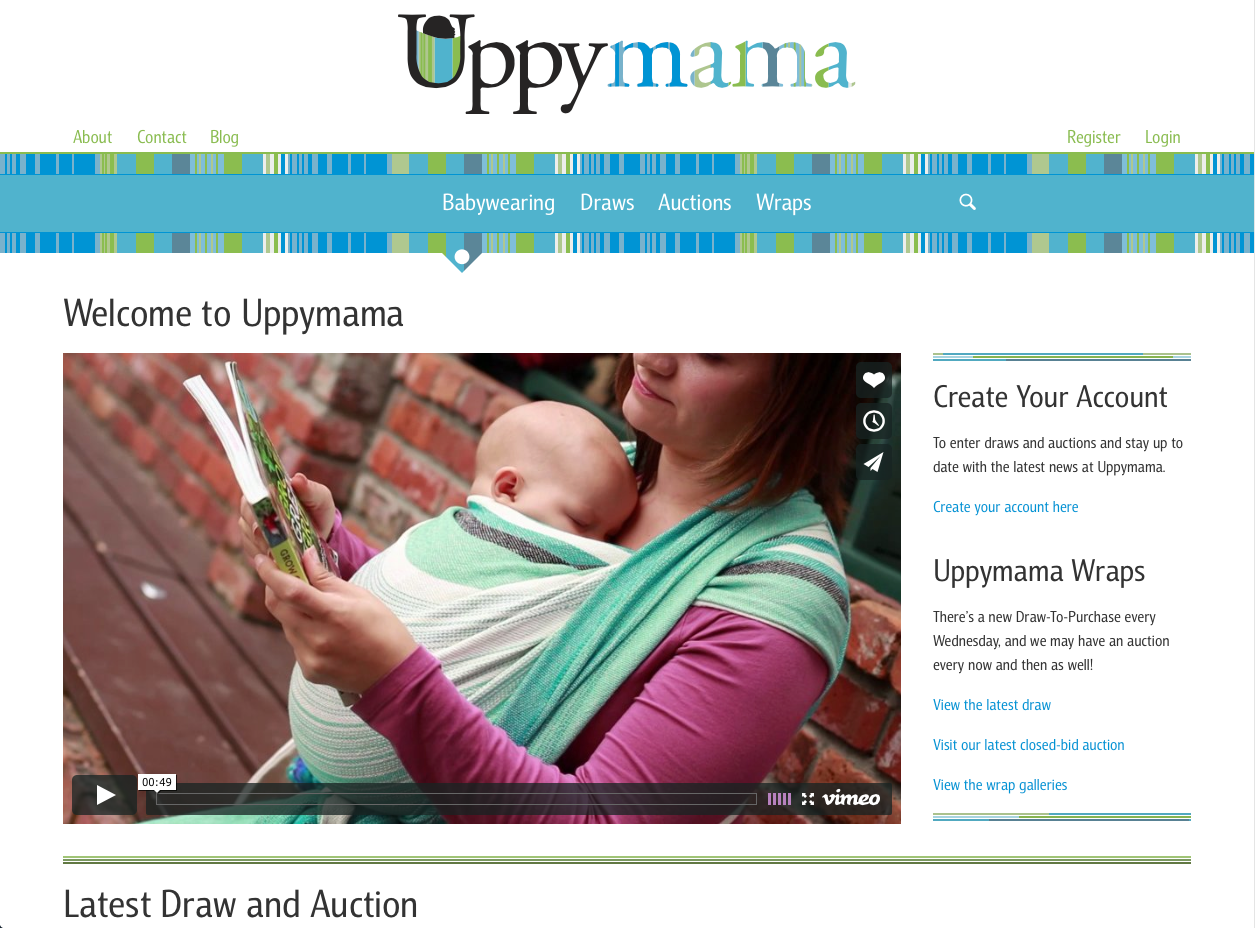 This is a responsive website exploring the beautiful handwoven babywearing wraps of Uppymama and is accessible on desktop, tablet, and mobile devices. This website scales to fit any size browser, has excellent little design details, such as the weaving shuttle in the navigation, as well as fully responsive buttons, a custom icon set, and features some very advanced auction and draw-to purchase functionality.
The Brief
Uppymama needed a website to service their highly-sought-after handwoven babywearing wraps. The site needed to support the highly engaged consumers of babywearing wraps in a professional and beautiful manner through:
• Sealed Bid Auctions
• Draw for Purchase
• A consultant marketplace
• Interactive forms for customizations

Uppymama's mission of supporting babywearing and attachment parenting values through the production of handwoven in Canada babywearing wraps needed a home on the internet that would allow novice and experienced babywearers access to wraps, babywearing resources, and info on how to babywear in a professional, engaging, and accessible way.

We focussed on design elements that are informed by the act of weaving, from the movement of the shuttle below the navigation to the vertical lines through the logo. This design brought a new life to the Uppymama logo by incorporating some of the website design elements into the logo as well.
From a functionality perspective, our strategy was to simplify the complexity in Draws and Auctions, (which are the primary way the consumers can purchase Uppymama wraps,) with intuitive tools for visitors, as well as some compelling backend functionality.

"When I began working with Chelsea to design and build the website for my business I honestly had no idea what kind of a process the project would be. I was completely unprepared for the depth of understanding Chelsea would reach about me, my needs, my technical understanding and the requirements of my business in order to design and build the ideal website. Meeting with Chelsea online weekly to see how the website was developing, make decisions about design elements and create content was an incredibly fulfilling and invaluable process.  
Chelsea and Justin explored every aspect, process and need of my business. They literally solved problems I didn't even know I had. Working with this team has been so so much more than buying a website. It had been like being part of a six-month-long business development seminar. Chelsea is so technically skilled in her craft yet brilliantly talented at teaching the most basic technical skills to the novice computer user.  
The needs of my business require many very technically challenging processes. However, my level of technical skill required the whole site to be very simple to use. Justin's talent is what really brought together the technical needs with the need for simple interfaces.
The design process was wonderful to be part of. Chelsea is awesome and her design work kicks ass!
The technical support I have received during the development of this project and afterwards as ongoing support in our service contract is also far more than I ever expected. They are prompt, helpful and efficient with anything we need to keep things running smoothly.  
I am not sure I can express how thrilled I am with what this team was able to create for my business. I am able to do everything I imagined and so many things I didn't even know were possible."
- Becky Purpur, Babywearer in Chief at Uppymama Ltd.