Pure Magnolia Responsive Website
This responsive web design is saturated with small details. The expanding perpetual navigation, the responsive buttons, and the hand drawn elements combine to make this website the perfect platform for Pure Magnolia's eco-couture wedding gowns.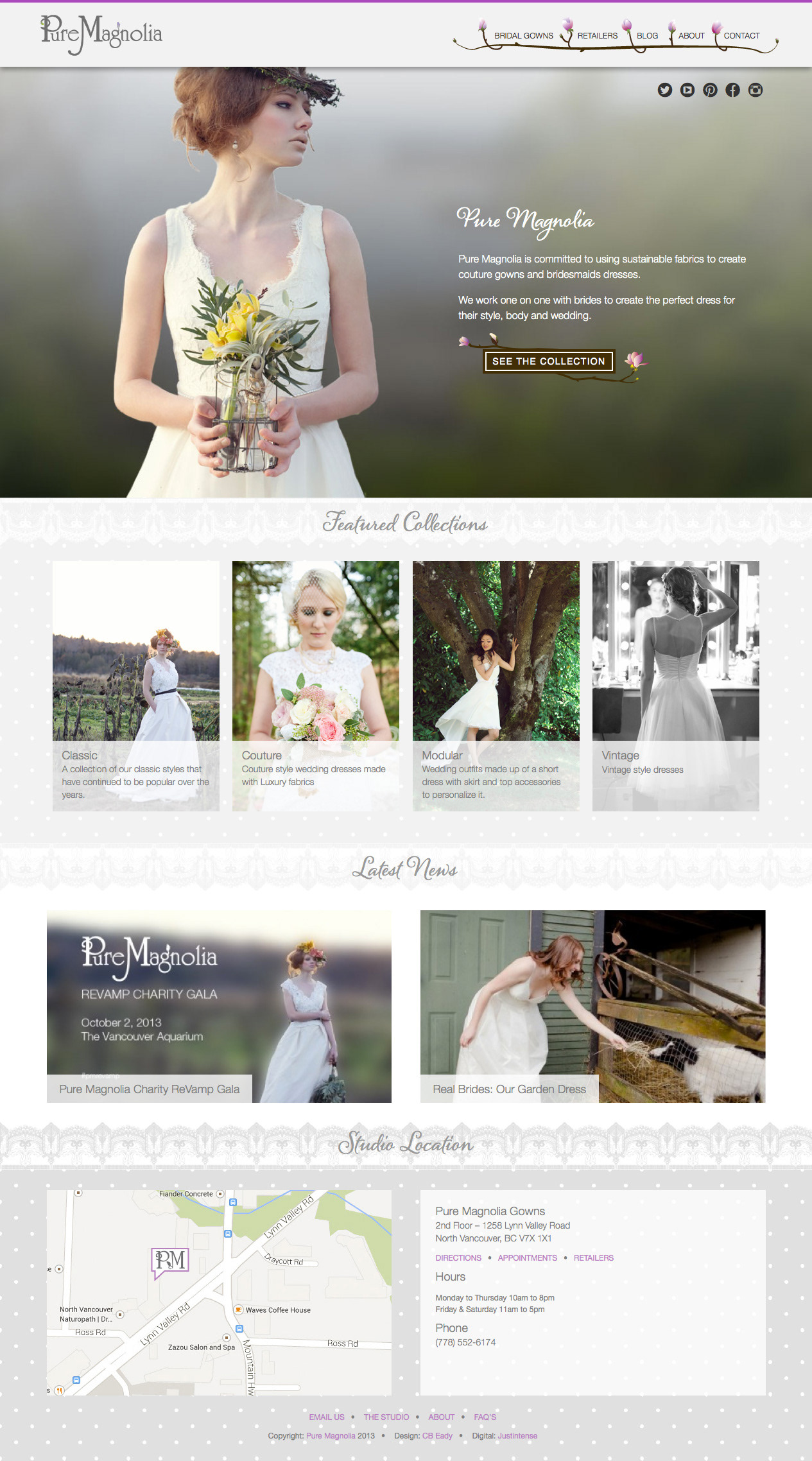 The Challenge

This is a responsive website that showcases the bridal dresses of Pure Magnolia Gowns, and is accessible on desktop, tablet, and mobile devices.  This website scales to fit any size browser, has perpetual navigation as well as fully responsive buttons, a custom icon set, and features hand drawn elements for navigation, buttons, borders, and backgrounds.

The Brief

Pure Magnolia needed a professional website that would encourage brides to book appointments to try on bridal gowns, direct them to Pure Magnolia's Etsy presence when appropriate, and provide eco-concious inspiration for their upcoming nuptuals.  Because many fashion shots are portrait rather than landscape, the design needed to handle the image orientation gracefully.  The site needed to be elegant and functional across browsers and devices, be easy for their staff to update, and provide contextual drivers to visitors including:
•   Book an appointment    
•   Buy a dress on Etsy    
•   Pin dresses on Pinterest
The Strategy

Pure Magnolia's dresses incorporate eco-concious values through material choices and upcycling. so it was important to focus on a one-of-a-kind look and feel, which was accomplished through the creation of handdrawn design elements, including many different variations of magnolia blossoms to complement the brand, a series of borders for buttons, french lace for section dividers, and asymetrical dots in a repeating background pattern.
By using handdrawn elements to focus visitors on the business drivers, the site helps to convert visitors to buyers, while highlighting the organic and eco-consious values of the company.